The best prebuilt gaming PCs for high performance straight out of the box.
We love building our own PCs, but there's no denying the simplicity of buying a prebuilt gaming PC. In the past, the best gaming PCs came with ludicrous price tags that encouraged building it yourself. Nowadays you may find purchasing a prebuilt is much closer in price and can save a first-time builder a whole lot of headache.
DO IT YOURSELF
Prefer to build your own PC? Check out our gaming PC build guide for advice on choosing the right parts. If you need practical advice (and a video) on how to build a gaming PC, we've got that as well.
We have build guides if you want to do it yourself, but for those want a high-end gaming experience straight out of the box, these are the best gaming PCs you can buy.
Cyber Monday deals: see all the best offers right now!
There's a lot to consider when buying a prebuilt rig to play the best PC games. The components themselves are often the least consequential, as most prebuilts can be configured to suit your needs with everything from budget offerings to to the best processors and best graphics cards. Instead, when considering the best gaming PC, we look for things like design, upgradeability, cable management, and warranty. Here are our top ten choices based on those criteria.
Of note, the new GeForce RTX 2080 and RTX 2080 Ti GPUs haven't made their way to prebuilt PCs just yet, but we expect they will soon. Once we've had a chance to evaluate those new systems, this list will see some renovations.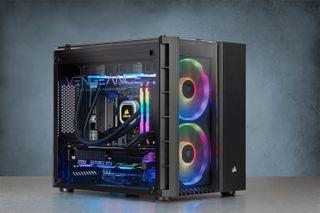 1. Corsair Vengeance 5180
RGB and ready for ray tracing
CPU: Intel Core i7-8700 | GPU: Nvidia GeForce RTX 2080 | RAM: 16GB DDR4-2666 | Storage: 480GB M.2 SSD, 2TB HDD
Stylish RGB lighting
Separate component chambers
RTX graphics
CPU can't be overclocked
We haven't had the chance to test too many RTX-powered systems yet, but of the few we have, Corsair's Vengeance 5180 is our favorite. Unlike many chassis that opt for plexiglass or another type of clear paneling, the Vengeance 5180 has tempered glass along the side, front, and top, creating a modern-looking aesthetic and elegantly showing off the system's innards.
To help with both aesthetics and heat management, the case rocks a dual-chambered design that separates the power supply from the GPU, RAM, and motherboard. All the shiny, RGB components are displayed front and center, while the more modest parts are tucked away out of sight.
The main downside here is the Vengeance 5180 features a B360 chipset and non-K Intel CPU, which means the Core i7-8700 can't be overclocked. If cranking up the dials to squeeze out a bit of extra performance is your thing, this comes as disappointing news, I'm sure.
MSRP for this stylish and powerful system is $2,399.99, which is a reasonable price considering the cost of components separately. You'll pay around the same amount to build it yourself compared to buying this pre-built PC, so it all depends on your budget, time, and if you care about overclocking. You may not be able to overclock the CPU, but for 1080p gaming on Ultra you won't need it. It also comes standard with a two-year warranty that covers repairs on anything that doesn't involve swapping out components parts with your own. If you're not an overclocking enthusiast, the Vengeance 5180 is worth writing Santa about this holiday season.
Read our review: Corsair Vengeance 5180
2. Corsair One
CPU: Intel Core i7-7700K – i7-8700K | GPU: Nvidia GeForce GTX 1070 – GTX 1080 Ti | RAM: 16GB – 32GB DDR4-2666 | Storage: up to 480GB SSD, 2TB HDD
Slim, minimalist footprint
Outstanding performance
Upgradable, but tricky to access some components
Corsair has long been a trusted brand in the PC building world, but with the One it cements its place as a purveyor of quality prebuilt systems as well. The One is a slim triumph of clean design, measuring 7.9 x 6.9 x 14.9 inches while packing in an impressive cooling system featuring a 240mm radiator for each of the GPU and CPU, both cooled by a single 140mm maglev fan up top that pulls cold air in through the radiators and exhausts it out the top. The result is a well-cooled system with a minimal footprint that runs whisper quiet.
Read the full review: Corsair One
3. CyberpowerPC Gamer Xtreme
Excellent value for the budget concious
CPU: Intel Core i5-8400 | GPU: AMD RX 580 4GB | RAM: 8GB DDR4 | Storage: 1TB HDD 7200RPM
Exceptional performance per dollar
Runs very cool out of the box
No included SSD
If you want a fantastic value for a prebuilt gaming PC look no further than Cyberpower's Gamer Xtreme. Featuring an Intel Core i5-8400, AMD's RX 580 4GB and 8GB of DDR4 ram you would actually pay close to $700 when building the system yourself part for part. It's already great out of the box, but the Gamer Xtreme can be easily upgraded. This is something we'd recommend immediately to ditch booting from that clunky HDD inside.
4. Alienware Aurora R7
Great performance in a stunning chassis
CPU: Intel Core i7-8700 | GPU: Nvidia GeForce GTX 1070 8GB | RAM: 16GB DDR4-2666 | Storage: 256GB PCIe M.2 SSD + 2TB 7200 RPM HDD
AlienFX RGB lighting
Easily upgradable
Lacking fan dust filters
Alienware used to be a brand known for futuristic designs and outrageously high price tags. But recently, we've actually seen some of the best value coming out of their prebuilts. The best example of this is the Alienware Aurora R7. It can be configured with a wide range of components up to a GTX 1080 Ti, but our favorite option uses a GTX 1070. Priced at $1600, it's a few hundred dollars below the iBuypower Snowblind but offers very similar performance and upgradability. You won't get a transparent LCD panel, but the Aurora R7 does have some very nice RGB lighting built in that's controlled through the company's AlienFX software.
5. Zotac MEK1
Ultra compact without compromises
CPU: Intel Core i7-7700 | GPU: ZOTAC GeForce GTX 1070 Ti 8GB | RAM: 16GB DDR4 | Storage: 240GB NVMe SSD + 1TB HDD
Very small footprint
Powerful compact graphics card
Can run a little hot
Zotac has become a dominant force in the GPU space in recent years thanks to its unique cooler designs and compact high end offerings. The company was one of the first to create a miniature GTX 1070 Ti and it looks like they've used this to their advantage with the MEK1 compact prebuilt PC. When it comes to compact, console-sized gaming PCs you usually have to sacrifice a bit on performance or pay a hefty premium to reach the high end. Zotac proved this wrong with the MEK1 which performs identically to some of the other high end desktops we've listed here and is also in the same price range. You could even play games in the living room in 4K with it. The only downside here is that the system will run hotter than larger desktops and upgrading it isn't as easy.
6. iBuypower Slate 9210
High performance without the price tag
CPU: Intel Core i7-8700K | GPU: Nvidia GeForce GTX 1070 Ti 8GB | RAM: 16GB DDR4 | Storage: 240GB SSD + 1TB HDD
Remote controlled RGB lighting
Liquid cooled
Only 2 USB ports on front panel
If you want a truly future proof gaming PC that is very well rounded, you'd be hard pressed to find a better option than the iBuypower Slate 9210. It essentially gives you nearly identical performance to the Snowblind but without the premium price tag. Instead of an LCD panel, you get a sleek tempered glass side panel with a tasteful implementation of RGB lighting on the front that's controlled with a wireless remote. The included i7-8700K and GTX 1070 Ti are more than enough to run all modern games on high settings. Best of all, it's priced just under $1500. This is only about a hundred dollars more than it would be if you built it yourself.
7. Acer Predator Orion 9000
Ludicrous power on wheels (literally)
CPU: Intel Core i7-8700K | GPU: Nvidia GeForce GTX 1080 Ti 11GB | RAM: 32GB DDR4-2666 | Storage: 512GB NVMe SSD + 2TB HDD
Turbo overclock button
Wheels and handles for LAN partying
Really, really expensive
Acer's Predator Orion 9000 is one of the beefiest prebuilt PCs on the market. It can be maxed out with Intel's Core i9-7980XE, 2xGTX 1080 Ti in SLI and 128GB of ram. That'll set you back a staggering $8000, but a more reasonable configuration is just a fraction of the cost. The $2800 configuration still comes with a massive price tag but it certainly pays off if you can afford it. The i7-8700K, GTX 1080 Ti, 32GB of RAM and 512GB NVMe SSD are top of the line specs that are more than capable of gaming in 4K. You could build yourself a similar computer for a few hundred dollars less, but the Orion 9000 features a unique transportable chassis with exceptional cooling, RGB lighting and a physical button for easy overclocking.
8. Dell XPS Tower Special Edition
Minimalist prebuilt with impressive performance
CPU: Intel Core i7-7700 | GPU: Nvidia GeForce GTX 1050 Ti | RAM: 8GB DDR4-2666 | Storage: 256GB M.2 PCIe SSD + 2TB 7200 RPM HDD
Sleek minimal look
SD reader + USB Type-C on front panel
Locked processor
It may not look the part, but Dell's XPS Special Edition Tower is actually fantastic for PC gaming. Starting at $1000, the Special Edition can be configured up to $1600 with an i7-8700K and a GTX 1070 under the hood. The best value we've found comes from the $1200 configuration which pairs the i7-7700 with a GTX 1050 Ti, 8GB of RAM and a 256GB PCIe SSD + 2TB HDD combo. It's enough to handle most modern games at medium to high settings in 1080p and is very easily upgradable down the line. The XPS Special Edition is not only great for gaming but for productivity as well. It features an SD card reader on the front panel as well as a Type-C USB 3.1 port. If you want a gaming PC with a simple minimalistic look, the XPS Special Edition is definitely our top choice.
9. ASUS GR8 II-T069Z
Great for the living room or desktop
CPU: Intel Core i5-7400 | GPU: Nvidia GeForce GTX 1060 | RAM: 16GB DDR4 | Storage: 512GB M.2 SSD
Cool RGB lighting
Compact design
Difficult to upgrade
If you want a compact gaming PC for your desk or the living room, Asus' GR8 II is a fantastic alternative to Zotac's MEK1. Priced around $920, the GR8 II is $500 cheaper than the MEK1 but still handles gaming well. The Core i5-7400 and GTX 1060 are enough to handle most games on medium to high settings in 1080p. Like the MEK1, it features a slim vertical standing design with some really cool integrated RGB lighting that looks great in the living room or on your desk. The only real downside to the GR8 II is that the graphics card cannot be upgraded.
10. Acer Aspire Gaming Desktop GX-281
Perfect for PC gaming on a budget
CPU: AMD Ryzen 5 1400 | GPU: NVIDIA GeForce GTX 1050 | RAM: 8GB DDR4 | Storage: 1TB HDD
Very affordable
Easily upgradable
No built-in SSD
If you're on a budget or just looking to get your foot in the door for PC gaming, Acer's Aspire GX-281 is a solid place to start. The desktop features AMD's affordable Ryzen 5 1400 and Nvidia's GTX 1050. The combination makes it more than enough for 1080p gaming on medium settings. It won't get you much further than that but the GX-281 is a great value at $600 and can be easily upgraded down the line. For less than a hundred dollars, you could upgrade the system with an SSD that'll really improve the gaming experience. Acer also offers great support which can be handy for users that are new to PC gaming.
Choosing the best prebuilt PCs
One of the biggest advantages to building your own PC is the ability to essentially hand-pick every single component in the system. This allows you to take your time shopping around for deals and finding the perfect combination of parts to fit your budget and performance needs. The downside for most inexperienced builders is that this whole process can take some time and has the potential to cause quite a headache if something goes wrong. This is where prebuilt gaming PCs really shine.
When you pay the premium to configure or purchase a prebuilt PC you are paying for more than just the parts. You are paying for warranty service, support and the peace of mind that your system was put together by professionals. These are some of the things we value highly when considering the best prebuilt gaming PCs. We also look at other unique selling points like design, upgradability and anything you wouldn't be able to do when building it yourself.
One of the biggest factors that make our choices stand apart from the competition is the design. Prebuilts like the Alienware Aurora R7 or Corsair One use completely unique in-house chassis you wouldn't be able to purchase when building it yourself. You can take some comfort in knowing that these systems were designed and built specially to house your configuration.
When we set out to choose our top ten choices of prebuilt gaming PCs, we took a look at almost every major manufacturer and system integrator to find the best combination of value, reliability, customer feedback, design and performance for various budgets and needs. We still highly recommend the experience of building it yourself, but if you can't do that then you're more than likely to find a suitable system in this list.